Public Health Preparedness
A public health emergency is any event or situation demanding immediate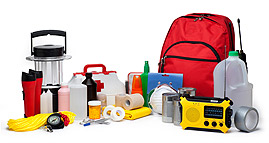 action on the part of the Lake County General Health District in order to prevent disease and injury or maintain public health within Lake County. Emergencies can be natural or man-made. Public health emergencies that have occurred in Lake County include flooding, derailment of a train carrying hazardous materials, and H1N1 influenza. Lake County General Health District collaborates with local, regional, state, and federal agencies to provide a coordinated response to all emergencies.  In addition, Lake County General Health District:
Helps local communities with preparedness planning and response efforts
Assists in the distribution of medicine and medical supplies during a large community emergency
Coordinates medical and non-medical volunteers
Participates in emergency preparedness trainings and exercises to prepare for and improve local emergency response to events involving infectious disease, the Perry Nuclear Power Plant, and natural disasters
Participates as a member of the Northeast Ohio Metropolitan Medical Response Meta-Coalition
Personal and Family Preparedness
There are steps that you and your family can take now to prepare for any type of emergency. Putting together a family plan will ensure that you and your family know where one another are in the event of an emergency, hear important instructions from local officials, and respond in a way that keeps you and your family safe. You can click on this link to learn more about Personal and Family Emergency Preparedness.
Distribution of Medicine and Medical Supplies
During a public health emergency, medications, vaccines, or other items may need to be distributed to Lake County residents quickly in order to save lives or prevent injury.  Lake County General Health District has pre-designated several locations throughout the county to serve as Points of Dispensing (PODs) where residents would come to receive their medications, vaccines, or other items.  In the event that only medications are necessary, you can save time by completing the Name, Address, and Personal History (NAPH) Form.  One individual may complete this form and pick up medications for up to 20 people. Private businesses may also serve as private or "closed" PODs for their employees, employees' families, and clients by establishing an agreement with the Lake County General Health District.
Resource:  Lake County General Health District Emergency Response Plan Base Plan (available upon request)
For more information, please contact:
Dawn Cole
Emergency Response Coordinator and Public Information Officer
Phone: (440) 350-2417
Email: dcole@lcghd.org